The colder days of fall and winter are quickly approaching, which means it's time to start thinking about your cold-weather wardrobe! While this is the season of comfy leggings and cozy sweaters, don't let yourself be fooled into thinking that dresses and skirts need to be packed away.
Believe it! There are so many fun ways to style these traditionally warm-weather staples to make them easy go-tos once the temperature starts to drop. Let's take a look at some of Sweet Salt's favorite ways to style dresses for cold weather!
Prioritize Layering
The golden rule of styling clothing in fall and winter is to layer. Not only does this ensure you're nice and warm throughout the day, but it's also an easy way to add texture and dimension to your ensembles. It's a win-win all around!
In regards to layering, Instyle says to "Give yourself permission to experiment with different textures, fabrics, weights, patterns, and colors, and the outfit possibilities are endless."
It's no different when it comes to layering dresses for cold weather. There's always a way to make it work. Here are a few of our favorite ways to layer:
Throw on a cardigan over your dress
Wear your dress under a long sleeve shirt
Put an oversized sweater over your dress and wear it as a skirt
Layer a short sleeve shirt under your dress and throw on a scarf
However you decide to layer, you'll quickly find that incorporating this technique into your ensembles is going to help you get through the colder months of the year.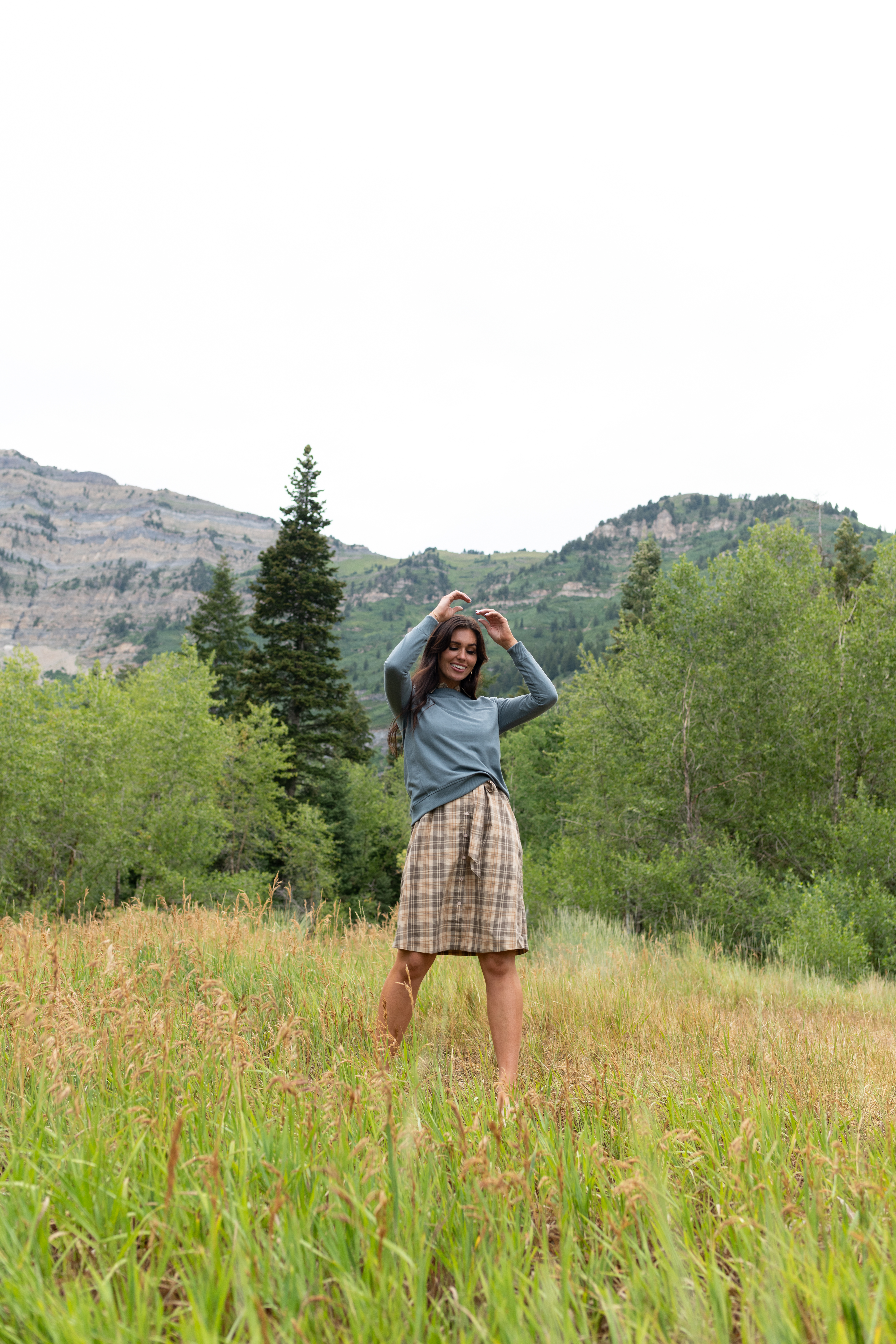 Wear the Right Fabrics
The next thing you'll want to keep in mind is fabric. Wearing the right material will keep you comfortable and looking totally cute. The wrong fabric will have you uncomfortable and shivering all day long. Look for dresses in thick, warm fabrics for cold weather.
Some great cold-weather fabrics include wool, fleece, and leather. These are sure to keep you cozy and looking great, giving you tons of options to mix and match with.
So what about fabrics to avoid when it's cold out? Steer clear of cotton, linen, and anything made with synthetic fibers. While these will serve you very well during the warmer days of spring and summer, they're not going to work well in a winter wardrobe.
The Right Outerwear
Another easy way to style dresses for cold weather is to pair them with the right kind of outerwear. During those crisp days of fall, a light coat or leather jacket is the perfect item to throw on over your dress.
As the temperatures continue to drop during winter, you'll want to opt for something a little more heavy-duty, such as a lined coat.
Incorporate Statement Pieces
No matter the time of year, we are always for incorporating statement pieces into your everyday ensembles. A statement piece could be a sweater with a unique design or bold color, or perhaps some chunky boots to wear with your favorite dress.
Whatever it is, don't be afraid to wear it! The only issue with statement pieces is that they can be intimidating to wear. Brainstorm four or five ways your statement piece can be worn with a dress and take the plunge. We guarantee you'll feel fabulous and powerful!
Perfect Cold-Weather Accessories
Top off your winter dress ensembles with the perfect cold-weather accessories to add style as well as comfort. It could be a big, chunky scarf or a cute hat, or it could be something as simple as a cute necklace or some earrings.
Accessories are an easy way to add a little something extra to your outfit, and in certain cases, some added warmth as well. Consider how you can incorporate accessories to add style as well as function.
Our Go-To Styles
Looking for some inspiration? Here are some of our absolute favorite ways to style dresses for cold weather!
A Special Occasion
Getting ready to head out for a nice dinner or a fancy night out with your significant other? Get dolled up for the occasion! Throw on a cute knee-length dress and some black tights and heels. This will give you a sleek look while also keeping you warm. Throw on a knee-length coat and you'll be good to go!
Everyday Casual
On those days where you're out running errands or you're taking care of things around the house, there's something about getting a little dressed up to help you feel more capable and productive.
Pick one of your favorite maxi dresses and throw on a loose top over it. Gather the bottom of your shirt and tie it up in a little knot. This little trick adds definition to your waist, giving you an insanely comfortable and flattering look.
A Day in the Office
Headed into the office for the day? Just because it's cold out doesn't mean that your favorite dress is out of the question! Grab a midi dress and put on a long cardigan over it. Some tights and ankle booties, as well as a cute pair of earrings, complete the look.
Night Out with Friends
Maybe you're going shopping or to a trendy new restaurant you've been wanting to try. Whatever it is, getting ready for a night out with friends is one of our favorite reasons to get dressed up.
For this look, grab a midi dress and a chunky sweater. Layer the sweater over the dress and tie it in a small knot in the corner. Throw on some heeled booties and a wide-brimmed hat, and you are all set for your fun night out!
No matter what you have on your agenda for the day, during those colder months of fall and winter, don't be afraid to pull out your dresses and style them! With the right accessories and layers, a cute dress is going to become an easy go-to item, no matter the time of year or temperature outside.