There are few things more satisfying than finding multiple ways to wear your favorite wardrobe essentials.
Even when considering a new purchase, it's a good idea to imagine a handful of ways that the piece can be worn. That way, you'll have a number of different outfits to look forward to with your new article of clothing.
With the colder months of the year coming up, the sweaters are coming out. So why not brainstorm a few different ways to wear your favorite one? Check out some of our go-to outfit ideas!
Our Sweater of Choice
Whether you're looking for new ways to style the sweaters you already have in your closet or you're looking to justify that cute sweater you have in your cart, there are tons of ways to wear any number of them.
Our current favorite sweater to wear multiple ways is our gray ribbed sweater top. It has a flattering cut, and it's the perfect neutral, making it easy to pair with just about anything. Keep this one in mind as we go through these eight different styling ideas.
1. Classic Jeans Look
What's more timeless than a pullover sweater and your favorite pair of jeans? This is the perfect ensemble for a day of working around the house or running errands. It's easy to pull out in a pinch, and you'll feel put together all day.
Try a French tuck in front for some extra definition. You could also roll up the sleeves a bit and add a cute necklace and some slip-ons to complete your look.
2. Midi Skirt Style
You can also throw together a dressier look with this go-to sweater. Grab your favorite midi skirt and tuck in your sweater to help define your shape. Wrap a belt around your waist to top it off. Put on your favorite pair of earrings to add detail. Depending on the weather, this would pair perfectly with some pointed-toe flats or ankle booties.
This is a great ensemble to wear to church or to the office. You could also wear it to a special event, depending on the occasion.
3. Office Chic
Searching for a classic look for a day in the office? This sweater is going to become a must for your professional wardrobe.
One of our favorite ways to wear it to work is layered over a white button-up shirt. Roll up the sleeves of both the shirt and the sweater just a touch to show off some bracelets. Roll the cuffs of the white shirt over the sleeves of a sweater for a darling finish.
This is easy to wear with a skirt or a pair of ponte pants. Throw on some mules and grab a bag big enough to hold your laptop, and you'll be set for a day in the office.
4. Layered Under a Blazer
Another fantastic way to wear this sweater into the office? Throw on a blazer! Since this sweater is the perfect neutral, this is a great opportunity to incorporate a statement blazer. Something in a bold color or with a pattern on it will be perfect.
5. Layered Over a Dress
An often overlooked way to style this sweater is to layer it over a dress! Whether it's a midi or a maxi dress, if you have a dress that you've wished was a skirt so you could wear it in different ways, this is your chance!
Throw the sweater on over a dress and tie it up in a knot. This gathers the material together, creating a flattering look that can't be beat. If it's extra chilly outside, grab your favorite scarf and wrap it around your neck for a little added warmth.
6. Casual Leggings
For those days when you just want to cuddle up and stay casual at home, this sweater and some comfortable leggings make the perfect ensemble. Snag your favorite book and get settled in for a comfy day. If you're looking for an easy way to dress up this outfit, consider incorporating some accessories to take it to the next level.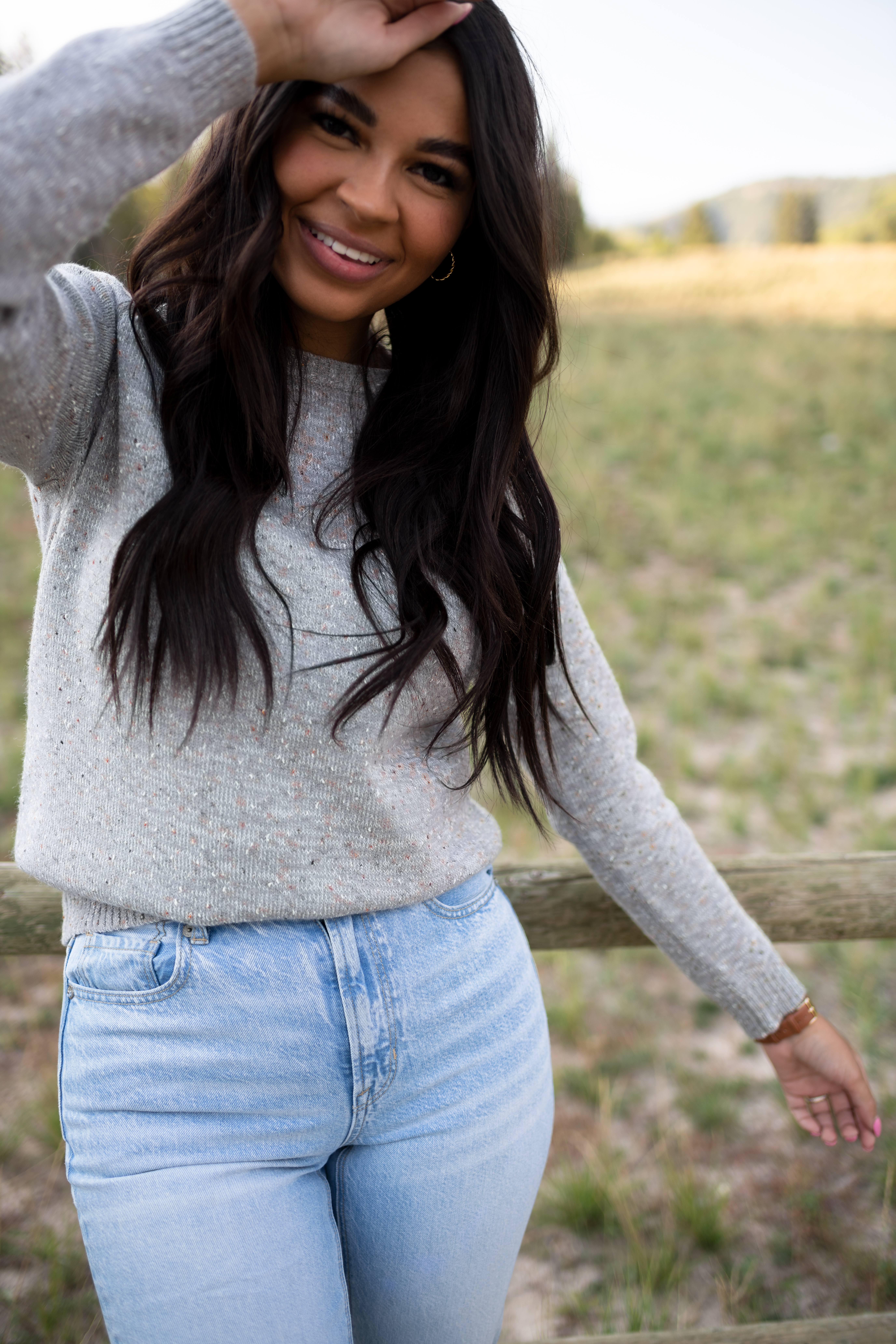 7. Your Favorite Denim Skirt
This sweater pairs well with jeans, and a good denim skirt works wonders too. Try a French tuck and put your hair up in a messy bun. Bonus: wrap a lightweight scarf in your hair. Not only will you look beautiful, but this is also an easy way to add a pop of color to your ensemble.
8. Wide-Leg Trousers
One trend we are loving right now is wide-leg trousers. They often feature a high waist, making them as comfortable as they are cute.
When you pair this sweater with these pants, it's a good idea to tuck in the sweater. Pair these pieces with some pointed-toe mules, which will create a balance that is hard to produce otherwise.
So whether you're needing something dressy for a special occasion or you want an easy go-to outfit that delivers on both comfort and style, implementing this versatile sweater is the perfect way to go. How many other ways can you style it?