There's no better way to usher in spring than with some bright, colorful dresses that embody all the fresh, cheery feelings this season brings. Like the blossoms opening up on all the flowering trees, our new spring dresses will add vibrancy and life to the dreary winter scenery we're ready to say goodbye to.
Although we at Sweet Salt have a wide variety of delightful pieces that have come out this spring, we wanted to feature five modest dresses that we know you'll love (and that will undoubtedly stand out in the best way possible)!

1. V-Neck Button Bodice Drawstring Dress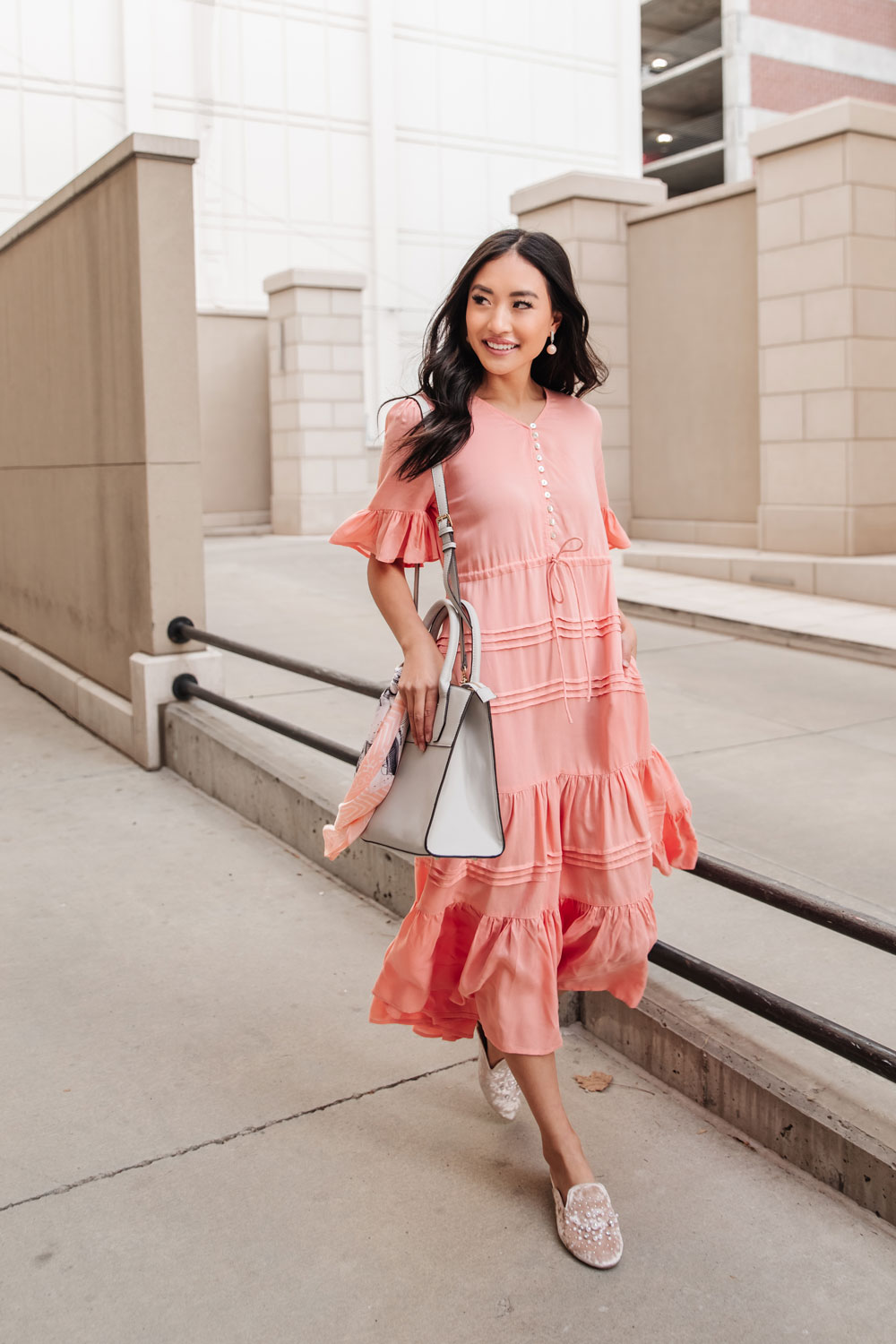 If this vibrant, light coral dress doesn't shout, "Hello, Spring!" then we don't know what does. With its bright color that pops like the first daisies of the season, this dress is the epitome of a fresh start. It is the perfect combination of playful and pretty, and those dainty buttons up the front are the most adorable detail you'll find on any dress. Don't forget how the ruffles on the sleeves and hem add just the right amount of movement and flair to create a dress that symbolizes everything we love about spring.
2. Button-Up Double Flare Sleeve Dress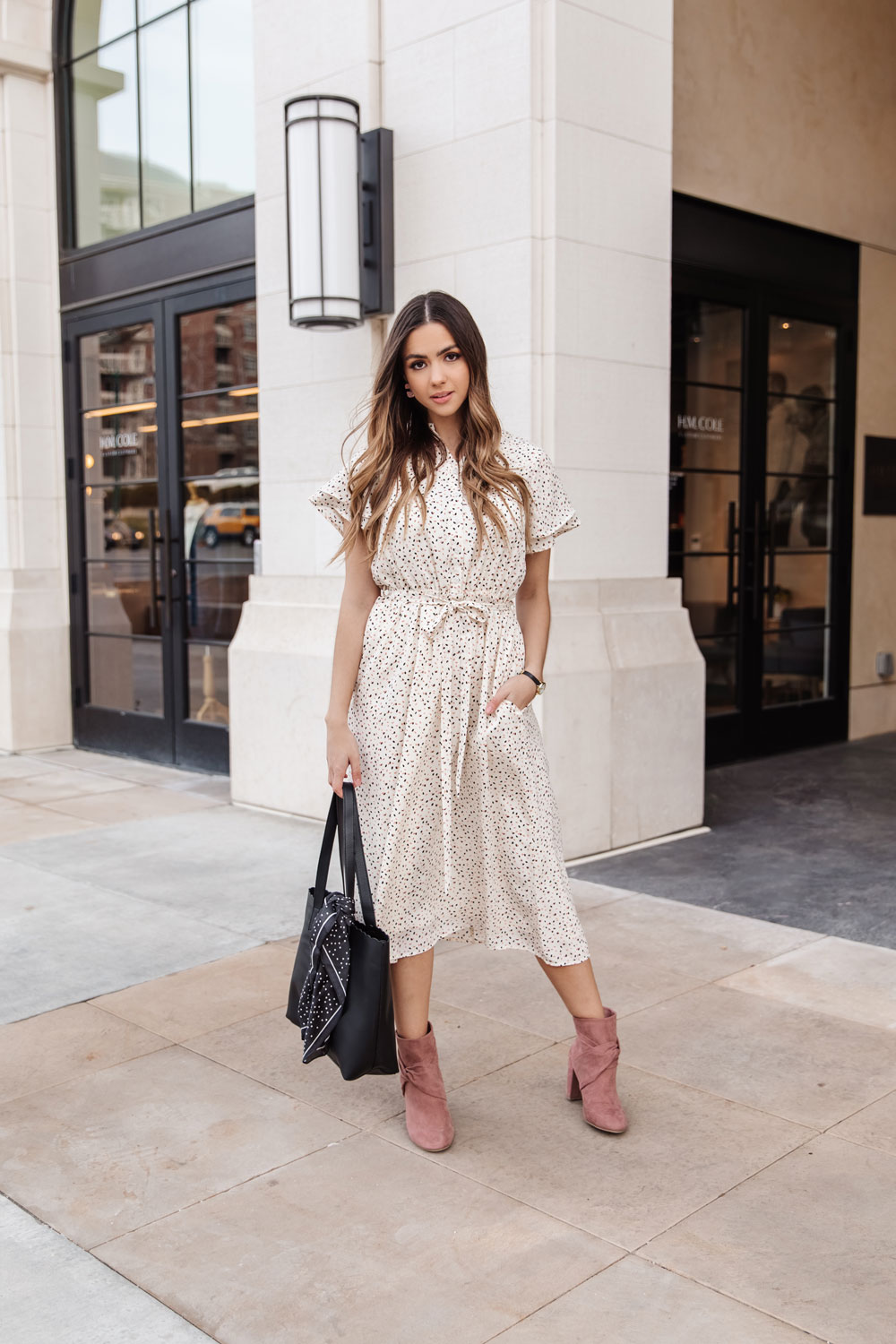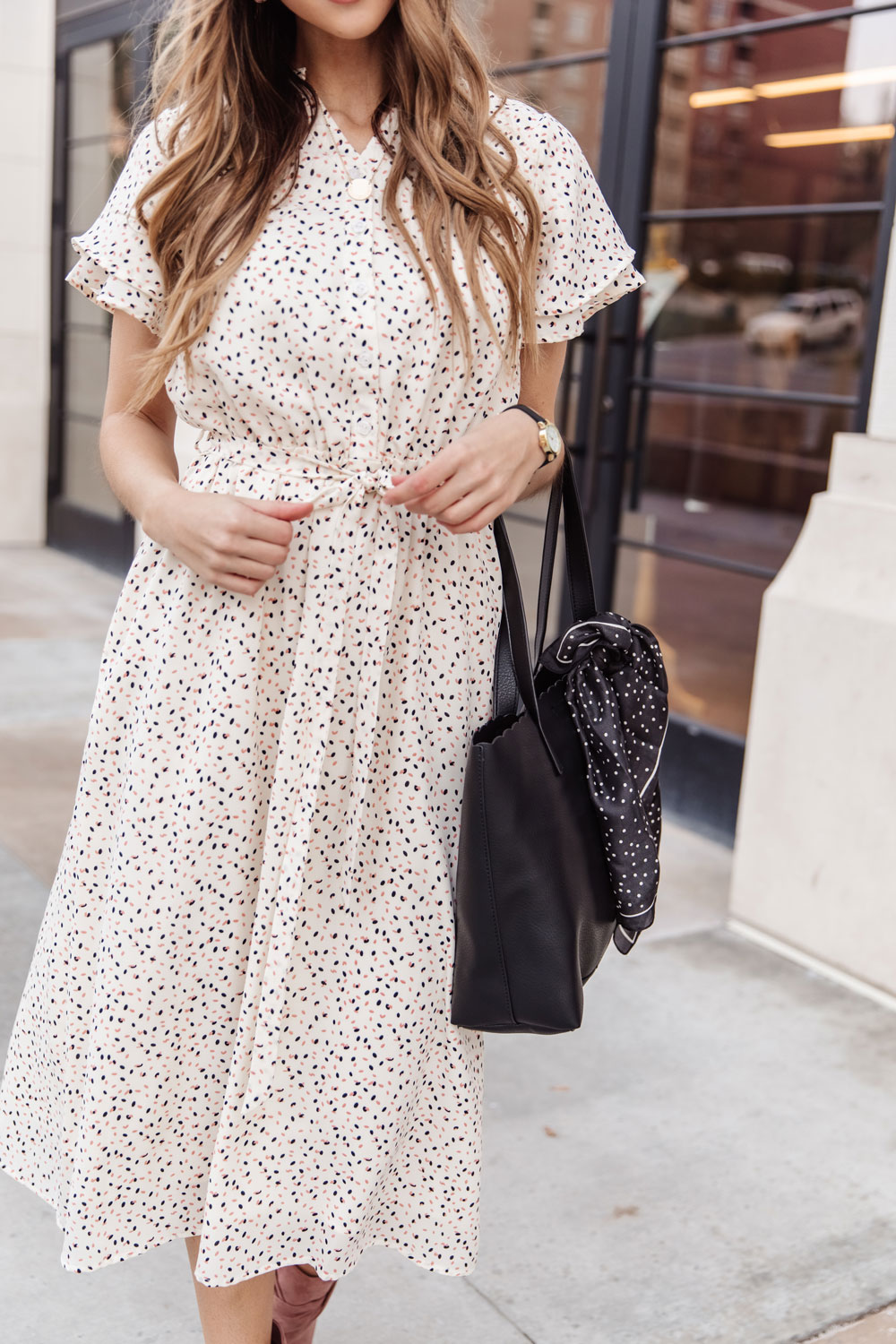 While a bright shade of coral undoubtedly speaks of spring, so does a soft, speckled ivory dress. We love this dress for this season because the little dots dusted all over feel like a light shower of confetti, or sprinkles on a cupcake, or even cute freckles that appear on a sun-kissed face. (Do you get our drift?)
Just looking at this dress makes you think of all the fun aspects of warmer weather and the spring season. So imagine how you'll feel when you're wearing it. Plus, its midi-length design, functioning buttons up the front, and double-flared sleeves are features that make it comfortable and fun to wear as those balmy breezes begin to take over.
3. Ruffle Neck Elastic Waist Dress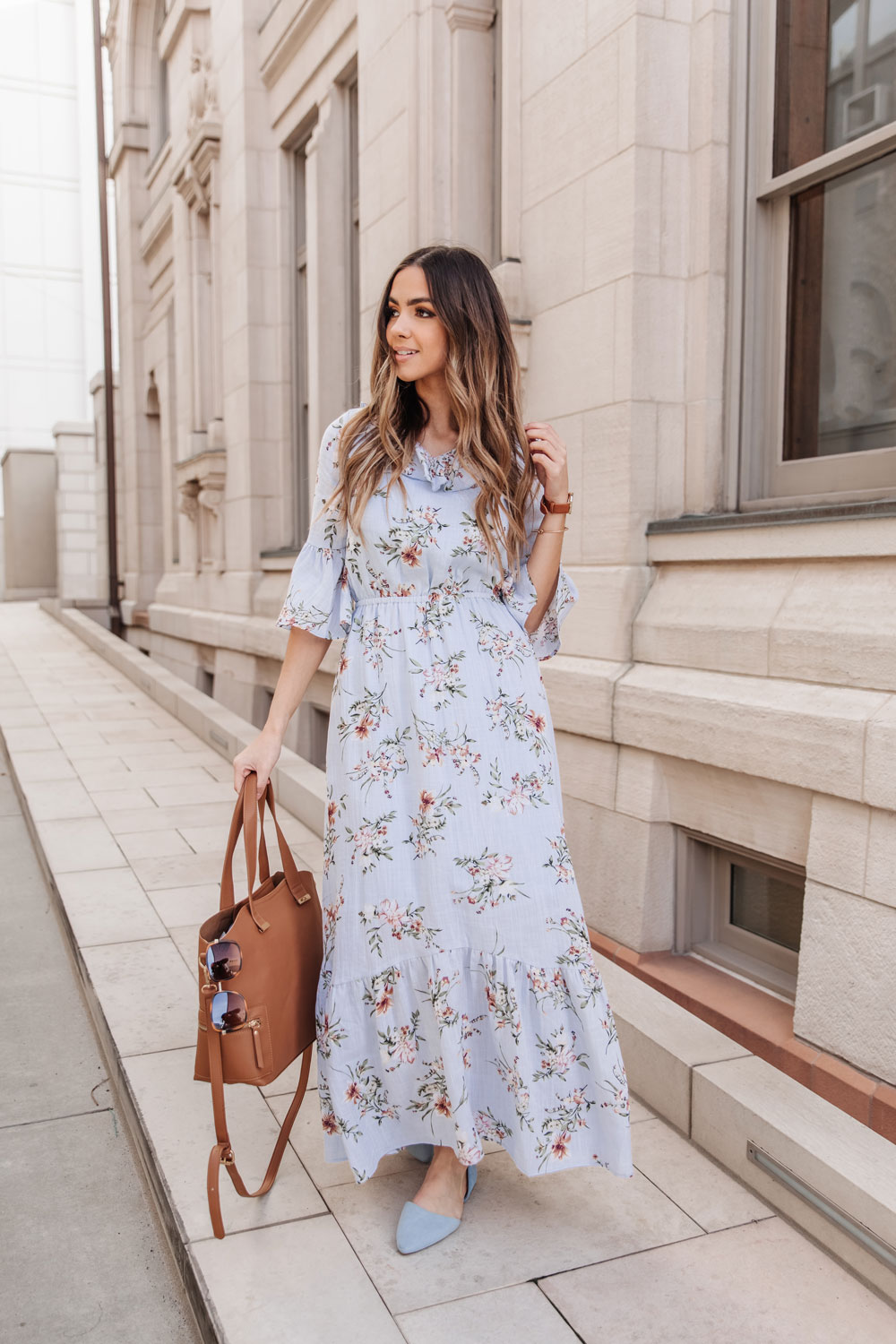 A light, lovely pastel blue is one of the dreamiest shades of spring, is it not? This elegant dress captures all the feels we get when imagining that first breath of fresh spring air sweetly scented with fragrant flowers. This dress is THE utterly exquisite manifestation of a season we all so desperately love.
The soft, fluttering ruffles on the neck, sleeves, and lower half, and the way the dress itself falls so gracefully on your body are just a few of the many reasons you need this particular piece in your life. Let's not forget the beautiful, yet subtle floral pattern that presents yet another reason why this is truly the perfect dress for this spring season.
4. Neck and Sleeve Ruffle Tier Dress
You can't talk about spring dresses without featuring one that is the essence of a sunshiny day. This darling ensemble is just that. Not only does it have that warm, golden glow reminiscent of a sunny spring morning, but it also has a cute checkered pattern that adds just a little pizzazz. And can we take a second to admire those delightful ruffle tiers from the waist down and the charming ruffle collar to match? Top it off with that flattering tie belt around the waist and you have the prettiest, most polished spring piece you could ever ask for!
5. Roll-Up Sleeve Button Down Dress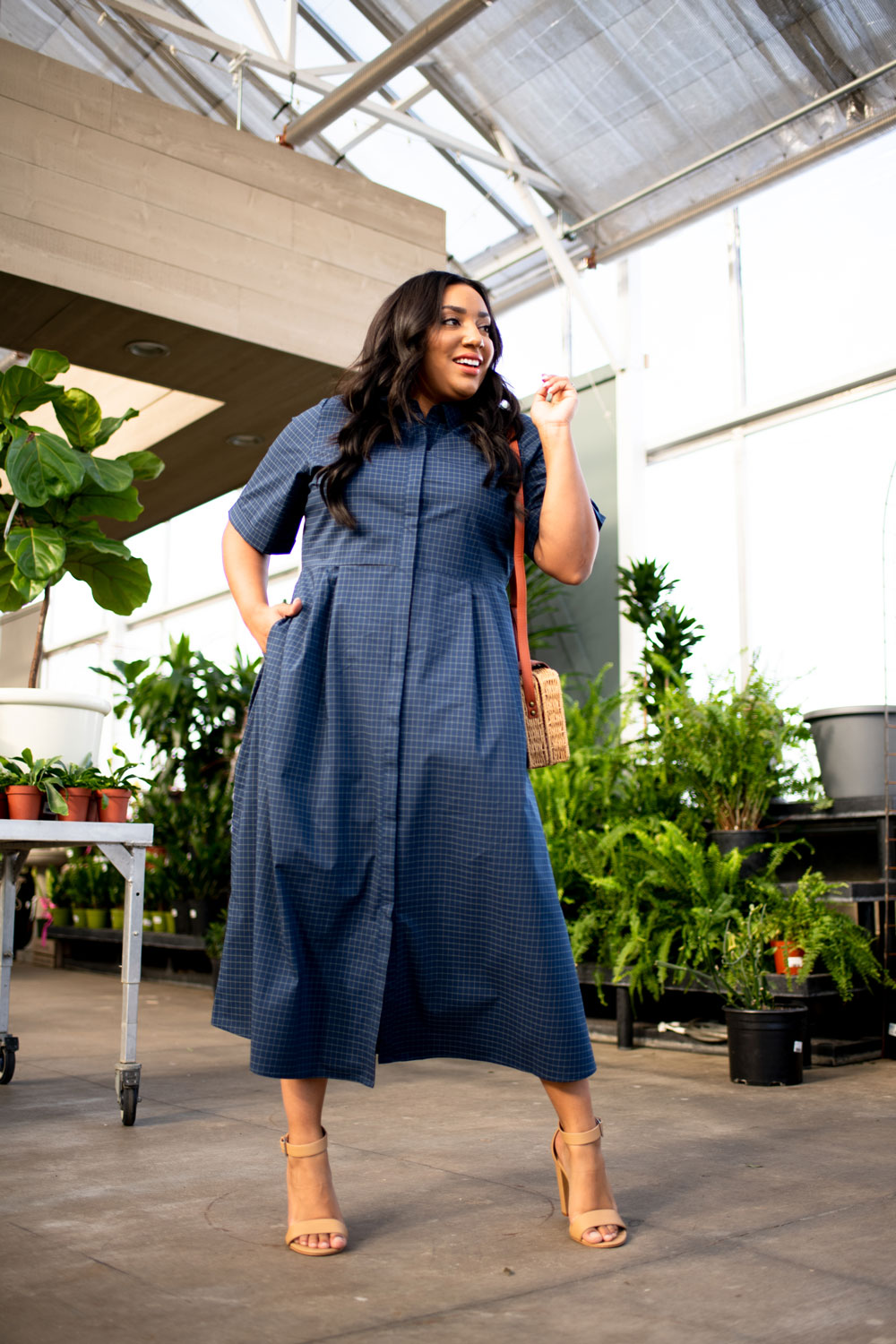 At first glance, you might not think this navy blue dress epitomizes springtime, but it actually has several alluring details that make it a captivating dress to showcase this season.
First, it features a navy checkered pattern that fits right in with all the fun checkered patterns coming out this spring. Second, it has roll-up sleeves and functioning buttons down the front that demonstrate just how much of an aesthetic difference small details can make. Third, do you see the gorgeous silhouette on this dress? It hugs you right around the waist and then gently flares out to create a beautiful, bellflower shape. (Google bellflower and you'll see what we mean.)
So there you have it! Five stunning spring dresses and dozens of reasons why they are the perfect pick for this season. Just click on the picture of the dress you're interested in and you'll be directed straight to the Sweet Salt website where you can order that particular dress.
Happy spring and happy shopping!
P.S. Thank you for visiting our lifestyle blog! We are a team of creative women designing specifically for women. We love all things fashion, home decor, family, food, and fun. Follow us on Instagram @sweet_salt_clothing for more style tips, giveaways, and product updates.