Finding the right accessories is a great way to take your favorite ensemble to the next level. Knowing how to accessorize your outfits is key to a full, complete look. Something as simple as a pretty scarf or cute pair of earrings are easy yet effective ways to elevate your outfit and help you feel like a million bucks. With warmer weather coming, we are looking forward to all of the fun summer outfits. Check out some of our favorite summer accessories perfect for any ensemble!
Everyday Outfits
Whether you're out taking care of things around the house, playing with the kids or you're all out together on a family stroll, accessorize your outfit for optimal cuteness and confidence. It's amazing what a few extra minutes of getting ready in the morning can do for your day- it's definitely worth it to take a little time to feel extra cute! Sporting your favorite bermuda shorts and a striped tee? Pair it with a fun pair of earrings and a versatile purse to hold all of your essentials for the day. Maybe you're wearing a midi skirt and graphic tee. Tie your hair up in a braid and tie it up with a scarf for a fun, summer look!
All Dressed Up
Maybe it's date night and you want to get yourself dressed up for your special someone. Wearing your favorite jumpsuit? Grab a classic necklace and crossbody bag for the perfect date night outfit. We are currently totally obsessed with jumpsuits-they are the perfect combination of comfort and versatility, and are the perfect statement piece to have in your closet.What could be better? Looking for an easy way to elevate your ensemble for a wedding or for church? Pair the perfect necklace and earring set for an effortlessly chic look.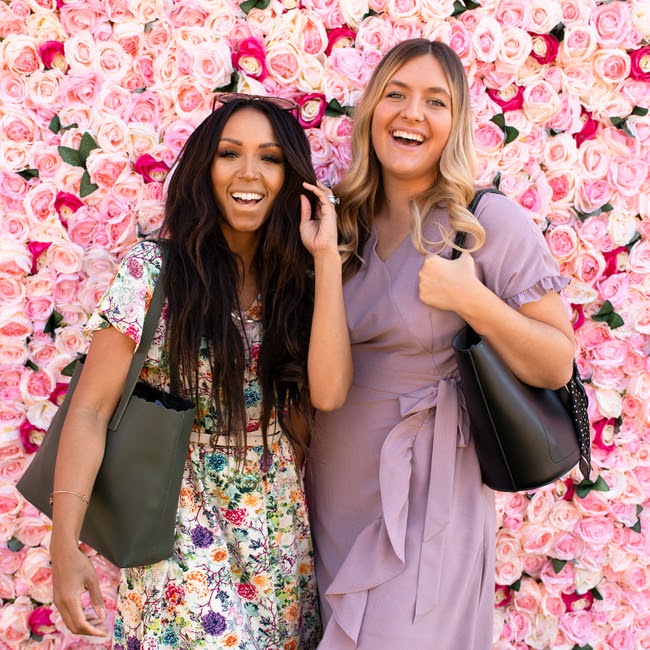 Running Errands
We've all been there- the list of to-dos, items to pick up at the grocery store, and locations to stop at can sometimes dominate the entire day. Feeling cute and put together is a surefire way to feel confident and capable when embracing that to-do list. Sporting your favorite summer dress for your day of running errands? Slip on a cute pair of strappy sandals and grab a brightly colored bag to accompany you, one of our favorite dress accessories! Wearing a denim skirt and pastel graphic tee? Top it off with a fun headband and pair of earrings to complete the look.
Girls' Night Out
There's nothing better than having a fun night out with your girl gang! And let's be real, if there's anyone that can appreciate a cute, trendy outfit, it's definitely your girlfriends. Whether you're in your favorite pair of jeans and a fun blouse or a vibrant dress, you can never go wrong with a dependable purse and dangly earrings to add an extra layer of charm to your outfit. Throw on a pair of fun heels or comfy trainers to top off your look and you're good to go!
At the Pool
Who says you can't accessorize for a trip to the pool? Have everything you need to look cute for your time by the water. Use a lightweight kimono as a swimsuit cover-up, throw your hair up in a messy bun with a scarf to keep everything together, and use a fun, wicker bag for your towel and sunglasses. Whether you're going to lay out in the sun and watch your kiddos splash in the water or you're planning on getting in yourself, it's always good to come prepared with the right accessories for your time at the pool.
Summer Parties
With warmer days and longer nights, you're sure to have quite a few more parties and get togethers on your calendar. Whether it's a block party with all of your neighbors or an intimate dinner with your closest friends, it's easy to complete whatever outfit you choose with the right accessories. Wearing a loose, flowy floral dress to an outdoor party? Top it off with a cute straw hat. Wearing some comfy bermuda shorts and a fun top? A cute necklace and some fun shoes are sure to do the trick.
So whether you're getting ready for a night out on the town, a laid back afternoon in, or a day full of running errands, never underestimate the power of accessorizing an outfit to help you feel bold and beautiful. The warmer months bring with them so many fun summer styles for women, and having the right accessories is the perfect way to complete any outfit. Set up your supply of outfit accessories with the perfect pieces to help take any outfit to the next level!
P.S. Thank you for visiting our lifestyle blog! We are a team of creative women designing specifically for women. We love all things fashion, home decor, family, food, and fun. Follow us on Instagram @sweet_salt_clothing for more style tips, giveaways, and product updates.