While we love any excuse to buy a new modest dress, and who doesn't love being able to wear a favorite piece of clothing all throughout the year? That's what a modest maxi dress is; a season-less wardrobe staple that's versatile enough for work and play and will turn heads no matter how you style it.
When can you wear a maxi dress?
That's an easy one—whenever you want! It's all about pairing your maxi dress with the right accessories to make it work for any occasion at any time of year.
Have a wedding to attend? Wearing a fitted vibrant hue maxi with simple heels and statement earrings will make you feel glam and stunning. Speaking at a work event? Make a lasting impression with your business knowledge and a belted A-line maxi dress with heels. Bonus, this look will accentuate your small waist while making you feel as confident as you look professional.
As fun as it is to dress up a maxi dress for a special event, it's also nice knowing you can effortlessly achieve a casual day look, appearing totally put together even when you've pushed the snooze button three times. So on those days when you're running errands or kids to and from practices (and running on Diet Coke), throw on a solid or striped knit maxi dress with sneakers. The maxi dress keeps you feeling cute and girly, while your comfy kicks will take care of your feet as you take care of your to-do list. Points to you if you throw on a jean jacket and baseball cap and the guy at the soda shop doesn't realize you've been there every day this week.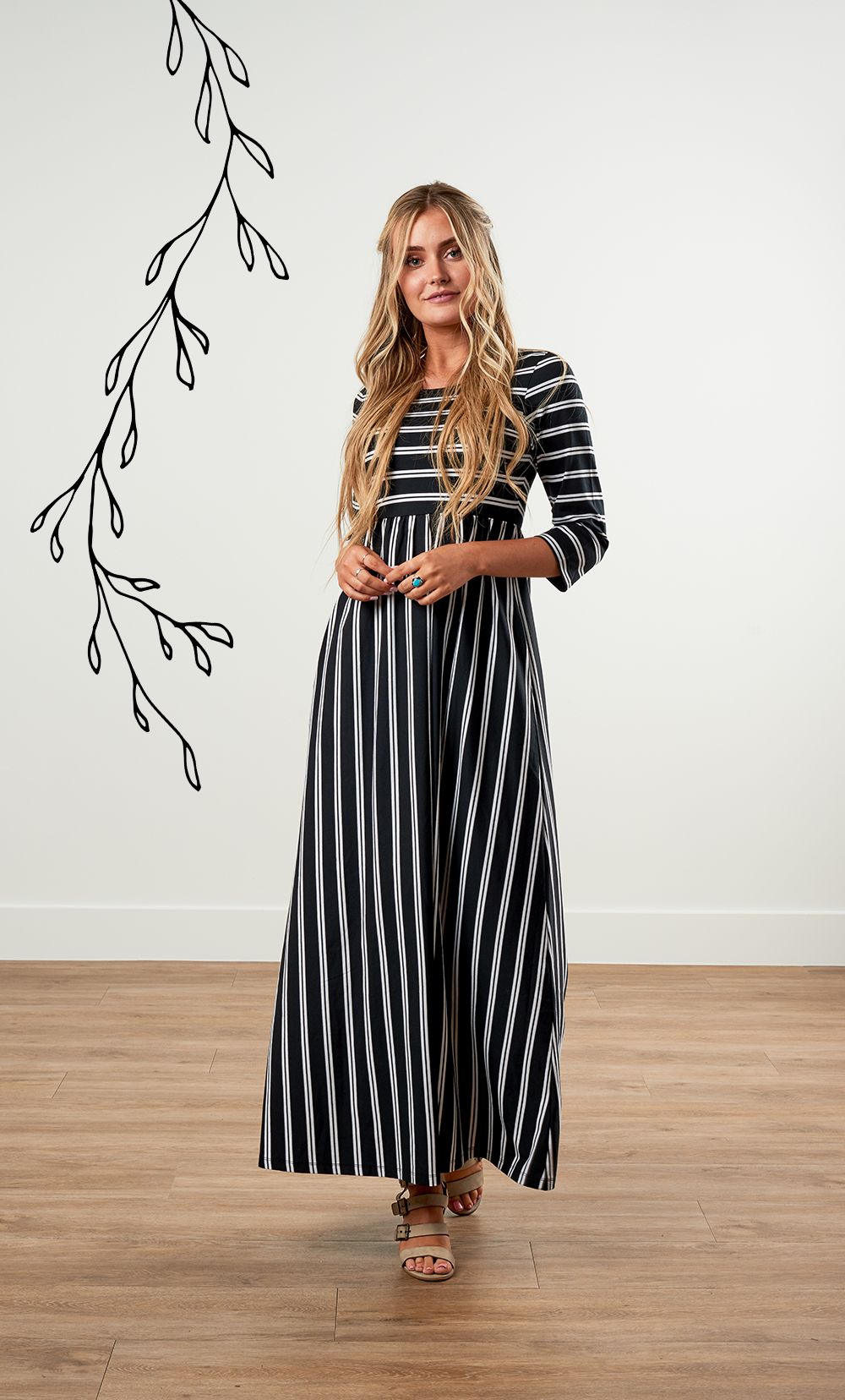 What shoes can you wear with a maxi dress?
Some women think since their feet are covered in a long maxi dress that it doesn't matter what shoes they wear. Girl, shoes always matter! Shoes may be the last part of your outfit you put on, but the right pair of shoes has the power to lengthen your legs, compliment the dress's silhouette, and polish off the look you're going for.

Just like you can wear a maxi dress for any occasion, you can wear just about any shoe with a maxi dress, which we're down for because what woman doesn't have a shoe obsession? (No judgment here.) Although you can pair any type of shoe with a maxi dress, which style of shoe you choose will influence your look. Here we've outlined some different shoe options and how they style a maxi dress.
Flats
Sandals, ballet flats, or mules all will make your footwear as comfortable as your maxi dress. Slip them on with a flowy maxi dress during a summer beach day or before taking a walk in the park for a charming, put-together look.
Booties
Ankle booties are a footwear favorite when transitioning from summer to fall. Grab peep-toe booties for milder days and pair closed-toed flat booties with a long sleeve maxi dress in winter so you don't slip and fall!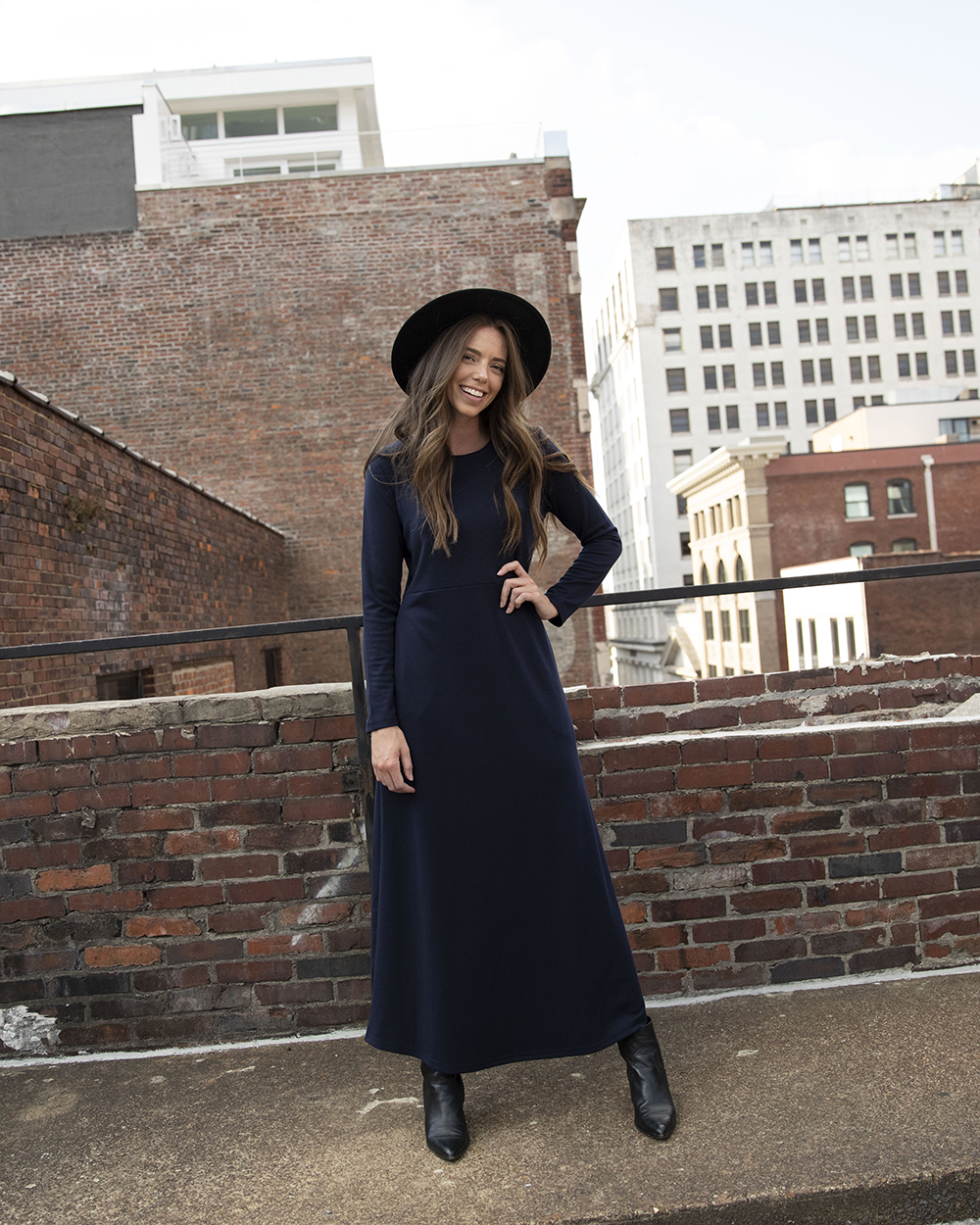 Sneakers
Tennis shoes aren't just for sportswear. Your casual style and comfort from head to toe will stay with you all day with a simple sneaker and maxi dress combo.
Heels
No matter the height, heels up your stature and your fashion game. Strappy stilettos are perfect for formal occasions, especially with side-slit dresses, while open-toe wedges are spring and summer fashion's best friend.

Really the rules of fashion with maxi dresses are simple. The dress isn't what's important—it's how you wear it. So get creative and really own your style the next time you're trying to figure out how to style a maxi dress because the only style that matters is yours.
P.S. Thank you for visiting our lifestyle blog! We are a team of creative women designing specifically for women. We love all things fashion, home decor, family, food, and fun. Follow us on Instagram @sweet_salt_clothing for more style tips, giveaways, and product updates.