Being able to take an outfit from casual to dressy with just your accessories might seem like a superpower—and it really might be! Making your clothing and accessories work in multiple situations is crucial to getting the most bang for your buck, having a less cluttered wardrobe, and making your clothes work well for you!
The secret to optimizing your wardrobe is to make sure all your colors go well together and that you are pairing each outfit with the right accessories. Let's talk more about how this all works.
What's a Color Wheel?
If you have never heard of a color wheel, you are about to have your mind blown. Color wheels are used to help people pick colors that go together, like in graphic design or interior design. However, the color wheel principles can be applied to your clothing and jewelry as well! If you Google the color wheel, it will pop up, and you can use it to decide what colors go best with what you have. You are specifically looking for color pairings that are complementary, analogous, tertiary, secondary, and primary. Here is what they all mean and how they relate:
Complementary: These are colors that are positioned opposite of each other on the color wheel, and they go well together! Complementary pairings are more intense combinations.
Analogous: These colors are typically next to each other or very close to each other on the color wheel. These pairings are less intense than complementary colors.
Primary: These are red, yellow and blue. They can't be made by mixing colors together.
Secondary: These are green, purple and orange. These are the colors that can be made by mixing equal parts of the primary colors.
Tertiary: These are made by combining primary and secondary colors.
So, what do color pairings have to do with dressing up your outfit? So much! Making sure that the colors of your outfit go well together and pair well with the colors of your accessories, is key to a dressier, more put-together outfit and a pleasing, professional look. Can you put together casual outfits with the color wheel, too? Sure! The color wheel is a great way to put together any kind of outfit, and is great to keep in mind as you get ready for any and all occasions.
How to Pair Accessories with Your Clothes
While the color wheel can help you put together great-looking pairings of clothing and jewelry, it's no surprise that certain metals and colors go better with specific colors and fabrics.
Green looks especially great with gold jewelry. This is probably because gold is much like yellow, and green and yellow are analogous colors on the color wheel.
Jewelry with rose gold, red, and pink hues will go better with neutral colors as well as colors similar to them on the color wheel.
So, now that you understand how colors pair together, how can you take an outfit to a dressier level? When dressing up your outfit, it's also important to consider the lengths of necklaces and your jewelry pairings. Longer necklaces can give an outfit a much fancier feel. You can also layer necklaces of different lengths, but be careful with this. Layering can have a more casual feel.
Don't forget your earrings! If you have pierced ears, you can never go wrong with a set of pearl studs. In fact, pearls of any kind–long and dangly or studs will dress up your outfit. If you don't have pierced ears, you can always get clip-on pearls or just focus on wearing fancier hair accessories!
No matter how you use them, jewelry and accessories are a great way to take your outfit to the next level. Let's take everything we've talked about, and look at several different pairings as well as the best ways to dress them up!
Dress up in Jeans and a Tee
Everyone loves a classic jeans and tee outfit. While you probably will not be dressy enough for church or a more formal event, this outfit is a great option when your office allows you to dress casually but you still want to look professional. Outside of work, you can also dress up jeans and a tee for a date. For most dates, you generally want to look put-together but not too dressy. While any jeans will work, dark wash jeans look the dressiest.
Gray, black, or dark blue jeans paired with a nice blouse or any shirt really, can be dressed up dramatically. Selecting a set of dangly earrings in a neutral tone (such as gold or silver) can really elevate your outfit. To take it to the next level, grab a necklace in a matching metal. By matching metals, you will pull your outfit together and give it a classy feel. Pair your outfit with a set of wedges or heels for an even more polished look.
Dress up a Casual Dress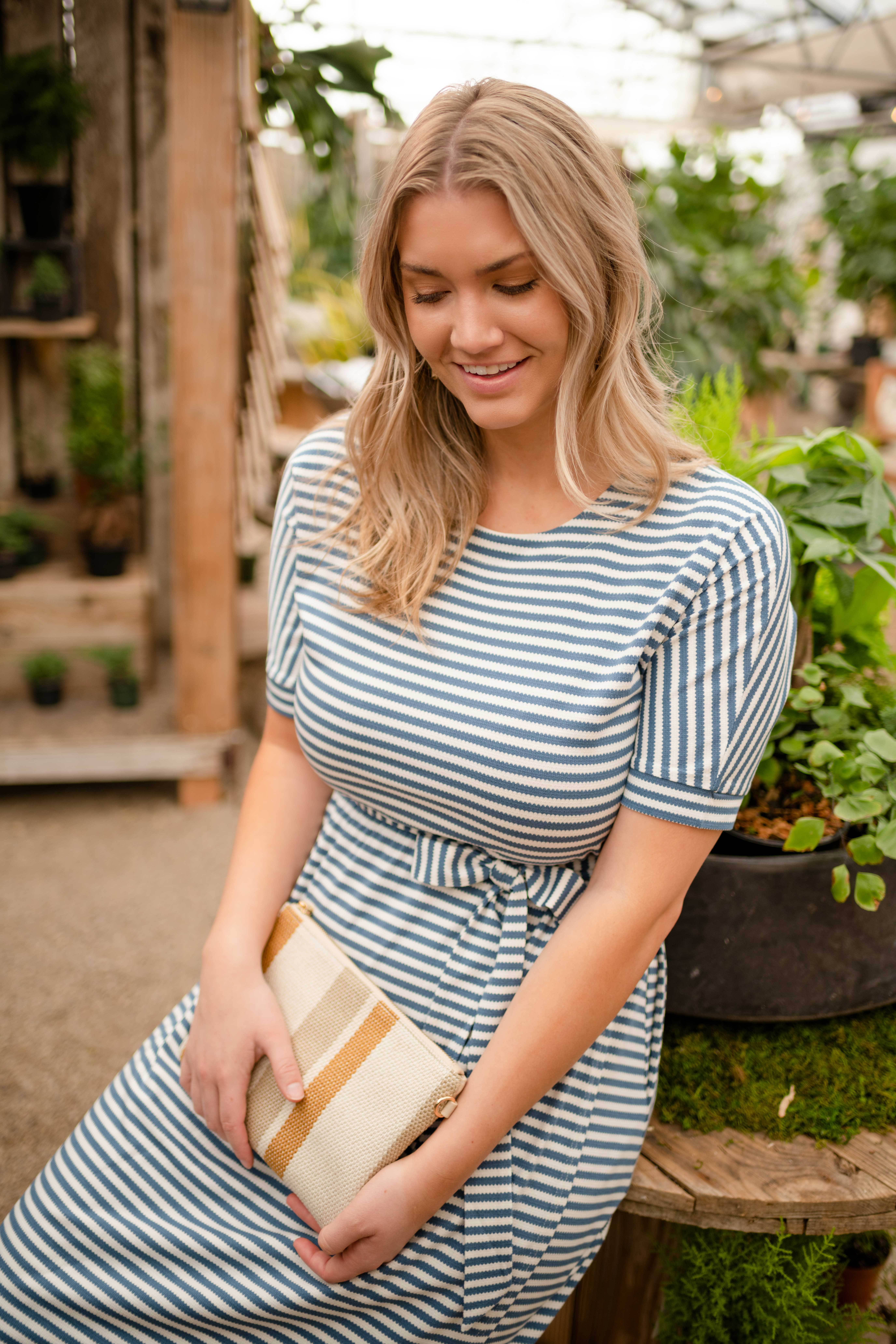 Casual dresses can be great for so many things, such as breakfast with friends, taking a walk, or just being comfy at home. However, when it comes time to go to a more formal event, you might be wondering how you can enhance your favorite casual dress.
First, grab your favorite pair of dressier shoes. Wedges and heels are always good go-tos. Next, add a nice handbag in a neutral color. Last (but definitely not least), add a longer necklace and stud earrings. Sticking with metals like silver, gold, and rose gold will look fanciest. If you can add in pearls or opals, that can help elevate your outfit as well!
Dress up in Shorts and a Shirt
If you're trying to make your shorts look dressier, start with a nicer blouse. A nice blouse will help elevate the shorts and the overall look. Shorts, especially denim shorts, can be very casual. If you can, opt for another kind of shorts as they will have a dressier look. When going for dressy-casual, remember that a nice top and shorts is easier to dress up than a T-shirt and shorts.
As for accessories, pair your outfit with a set of dangly earrings and a short necklace in, you guessed it, a neutral metal. If you really want to make yourself look dressy, add a pair of wedges. Heels have their place, but they might be too fancy to wear with shorts.
Hopefully, these tips have helped you better understand how something as simple as accessories can elevate your outfit. While you definitely need to pay attention to what is considered appropriate wherever you are going, fashion is also a way of expressing yourself. As long as you feel comfortable, modest, and confident—that is what really matters. As you're shopping for necklaces, earrings, and purses, make sure you check out Sweet Salt's collection of accessories!